HonorBridge has broken ground for its new headquarters at 7000 Millhouse Road, Chapel Hill, NC 27516. It is relocating from its 12,000 sq ft Durham building to a 56,000 sq ft Chapel Hill location by summer 2022. The company, whose service area includes over 100 hospitals and four transplant centers, serves over 7.2 million people in 77 counties in North Carolina and Virginia.
"We are excited about our move to Chapel Hill," said Danielle Niedfeldt, RN, JD, President and CEO, HonorBridge. "Our new office will enable us to better honor the gifts of life from our donors, increase our meeting spaces, serve our communities, and provide additional clinical suites for organ and tissue recoveries to ultimately save and heal more lives."
HonorBridge's future building will be easily accessible from I-40 and centrally located between the four transplant centers of Vidant Medical Center in Greenville, Wake Forest Baptist Health in Winston-Salem, Duke University Medical Center in Durham, and UNC Medical Center in Chapel Hill.
Phillips Architecture from Raleigh, NC has designed the facility with three recovery suites and Inland Construction is building it. Speakers at today's groundbreaking ceremony included: Van Smith, Executive Vice President, Vidant Medical Center and Chairman, HonorBridge Board of Directors; Pam Hemminger, Mayor, Town of Chapel Hill; Marc Christopher, Building Architect, Phillips Architecture; Rodney Cook, Heart Recipient, Member, HonorBridge Medical Advisory Board, and UNC Alum; Stuart Knechtle, M.D., Surgeon, Duke Transplant, Member, HonorBridge Board of Directors, and Donor Dad; and Danielle Niedfeldt, RN, JD, President & CEO, HonorBridge.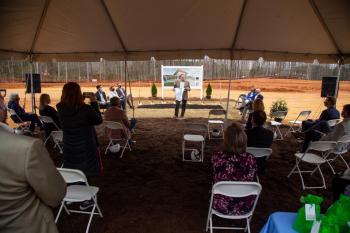 HonorBridge educates the public and health care professionals and increases the number of registered organ, eye and tissue donors. Additionally, it facilitates the recovery of organs and tissue for lifesaving transplants and provides grief support to its donor families.
Currently, nearly 113,000 men, women and children are waiting for lifesaving transplants across the nation. For more information about HonorBridge or to register to become an organ, eye and tissue donor, visit www.HonorBridge.org.