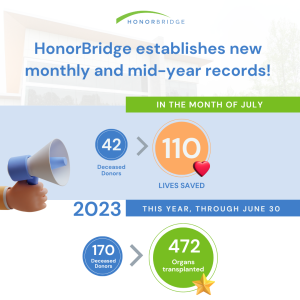 August 17, 2023 (Chapel Hill, NC) – In a remarkable first half of the year, HonorBridge opened the doors to its new, state-of-the-art Donor Care Center in Chapel Hill, broke records for more deceased organ donors and organs transplanted than ever before, and then established monthly records in July for number of organ donors and the most lives saved in a single month.   
This year, through June 30, HonorBridge worked with 170 heroic, deceased organ donors resulting in 472 organs transplanted to those in dire need. Previously, 2020 was HonorBridge's best year with 136 deceased donors and 432 organs transplanted through June. The 25% increase in deceased organ donors and more than 10% increase in organs transplanted in three years is due to HonorBridge's diligent dedication to process improvements, staff education, collaboration with donor hospitals, empathetic donor family care, as well as many other thoughtful and strategic advances. 
Though the first half of 2023 was outstanding, July was a record month for deceased organ donors and lives saved. During the month, HonorBridge worked with 42 deceased donors saving the lives of 110 patients on the national transplant waiting list.  
"Each transplant marks a life saved or healed thanks to the decisions made by the heroic donors and honored by their remarkable families during times of unimaginable loss and grief. HonorBridge staff work each day to ensure we can maximize those precious gifts, not only out of respect to the donors but for the hope, the healing and the life they can give to the recipients," said Danielle Bumarch, RN, JD, HonorBridge President & CEO. "This is why we are so excited about our Donor Care Center and other new processes. As we already see, together we continue  this upwards trajectory which leads to more lives saved." 
As Bumarch says, HonorBridge's work continues. With over 100,000 men, women, and children waiting for lifesaving organ transplants nationally and 3,500 waiting here in North Carolina, another person is added to the list every nine minutes just as every 17 minutes, a person waiting, dies. The rate of North Carolinians who have registered as donors, 55%, is below the national average of nearly 60%. More registered donors mean more hope, less time waiting, and more lives saved. It's as simple as signing up at HonorBridge.org/RegisterMe or saying 'yes' to donation at the DMV. 
# # # 
About HonorBridge: 
HonorBridge, formerly known as Carolina Donor Services, is the federally designated, not-for-profit organ procurement organization serving 7.5 million people in 78 counties in North Carolina, along with Pittsylvania County in Virginia. With offices in Chapel Hill, Greenville, and Winston-Salem, HonorBridge is devoted to building connections that save and heal lives through organ and tissue donation. For the third consecutive year, HonorBridge was named Business North Carolina's Best Employers. In North Carolina, over 3,000 people are currently waiting for organ transplants and nationally, over 100,000 people are on the organ waiting list. For more information, visit HonorBridge.org or call 1-800-200-2672.