On July 8, 2020, I chose to become a previvor, a person with a hereditary cancer mutation who undergoes risk-reducing surgery to mitigate their cancer risk. 
Let me rewind. My dad's side of the family has an extensive history of breast and ovarian cancers; I lost my only aunt to a 10-year battle with metastatic breast cancer. Armed with knowledge of my family history and empowered by the recent deaths of a friend from metastatic breast cancer in her mid-30's and a former student from ovarian cancer in her late-20's, I asked my doctor if I would be a good candidate for genetic testing. After a quick risk assessment, she agreed I would be a prime candidate. I walked down the hall of her office and had a simple blood draw that would forever alter the course of my life.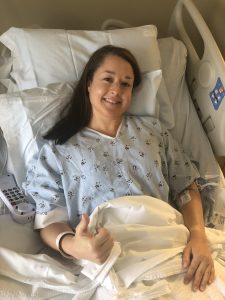 Three weeks later, she called me back into her office and sat across from me and said, "I'm sorry to tell you that you tested positive for the BRCA1 mutation." Being BRCA1 positive means my lifetime risk of developing breast cancer is about 65% (about 12.5% in the general population), and my lifetime risk of developing ovarian cancer is about 40-60% (about 1.3% in the general population). This diagnosis felt like a death sentence; I felt liked a walking, ticking time bomb. 
After two years of increased monitoring and surveillance, I decided the best choice for me was to undergo a bilateral mastectomy with reconstruction to reduce my risk of breast cancer by 90%. Making this decision wasn't easy, but it was a privilege to be able to make this choice. Breast cancer has been a reality of the past and present for so many women I love and care about; my resolve was strengthened through their bravery in the face of this disease. This selfless act helped me feel whole again, both physically and emotionally. The year 2020 was one where meaningful human connection was limited and restricted; this giving act felt symbolic to me on many levels.
So while I chose to become a previvor on July 8, 2020, I didn't yet understand the connection my choice would have to the choice of another. About 10 days after my surgery, I received a letter in the mail, informing me that donor tissue was used in my breast reconstruction and inviting me to write a thank you note to the loved ones of the person who made the selfless and generous act to donate their tissue. As knowledgeable and prepared as I was for surgery, it didn't occur to me that the tissue used to create pockets for my breast implants during reconstruction would come from a donor who experienced a loss of life.  
I didn't and still don't know anything about my donor and their family, but I'm so grateful they made the decision to donate tissue and their family honored that choice. And I'm grateful there are organizations like HonorBridge that make this process possible for recipients like me.