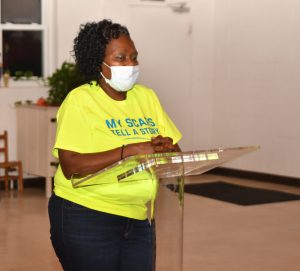 Before I got sick, life for me was a little stressful.  I worked a lot.  I was a school bus driver and a cake decorator. I made cakes and candies and gift baskets, to provide for myself and my two children. Never realizing in a million years that I would wake up one day and my health would change suddenly, that I'd find out after running tests that my liver was failing. So many things were running through my head. I had never been sick like that. Everyone in my life was affected.
I thank God for the second chance at Life. Because if it hadn't been for God & and my donor family I wouldn't be there today. I am so thankful & grateful for my donor family giving me life. Organ donation saves people's lives. If I could meet my donor's family I would hug them, smile, love on them. Thanking them and allowing them to see their love is still here with them. I love their family unconditionally, although I don't know them. It's the God in me.
I am trying to overcome all that I've been through from the beginning to now. Battling with depression, anxiety, and "what if" syndrome. For a long time, I couldn't tell my story. I was too weak and too much was going on in my life. But, my 15th year Transplant Anniversary was on August 11, 2007.  On that day, I turned 15 years old. I was able to participate in my own celebration with my Doctor & other transplant recipients.
I pray that my mind can stay focused and my health & strength will hold so that I will be able to write a book about my transplant story. I hope I get the courage to go out and share my testimony with others and share how important the gift of life can save people lives. It saved mine.  Organ Donors save Lives.